If you have been struggling somewhat to keep up with the demands for change brought forward by the energetic flow over the last few months, take heart because September looks set to be an easier more expansive month.
There is a lightness, flow and forward movement to the energies this month which should facilitate the consolidation of the inner work that we have all done over the summer months.
Of the six retrograde planets claiming our focus and attention during August only three will remain in retrograde motion over the coming month. Mars went direct at the end of August and Saturn turns direct on September 6/7th, while Mercury moves into Virgo, a position in which it is particularly at home. If you have been seeking greater clarity or hesitating to take action on something important, you should find things will now start to unfold with greater ease and certainty.
In general, September is a good month in which to take stock of where you find yourself so that you can reflect, organize, and create a forward plan for the last quarter of the year. The new moon on September 9th will be a particularly fertile, magical time to focus on this since inspiration and new ideas should be particularly available around this time.
The expansive, positive energies of September will help us manifest anything that we put our focus on. It is therefore particularly important to focus on what you do want in your life this month and to release any attention points you might be holding on things that are finished and unimportant for the future.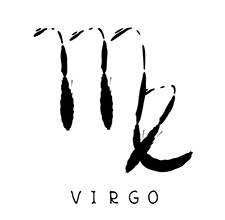 The Influence of Virgo
All the other planetary activities this month are set against the backdrop of inflowing energies from the constellation of Virgo.
Aligning with the highest potential of the feminine, earthy, nurturing qualities of Virgo energy will take us deep into the realm of the feminine goddess, the Mother principle and the gestation of new life.
In the magnified flow of Virgo energies, we are reminded of the inherent unity between spirit and matter and the need to nurture and grow the light of our own divinity within the physical form that we are currently inhabiting.
At a practical level, Virgo energies stimulate the desire to be of service so we can expect its influence this month to bring to the fore any aspects of our lives that need adjustment so that we can align more fully with our true purpose. This could simply take the form of a reminder to nourish our own inner light so that it becomes more visible in the world and serves as a reminder to others of the power of the light within themselves.
Freedom & Responsibility
In general, September is a good month in which to take stock of where you find yourself so that you can reflect, organize, and create a forward plan for the last quarter of the year
For some time now there has been a persistent theme making itself felt within the energy flow that seems to be especially relevant right now.
This theme centers on our ability to take full responsibility for ourselves at all levels as we move from a 3rd/4th-dimensional patterning towards the freedom of a more 5th-dimensional expression of ourselves.
This month would be an excellent time to ponder how this theme might be playing out for you, as well as identifying any areas of your life where you are still playing out old patterns based in blame, lack, judgment, disempowerment etc. At a practical level, this might involve issues such as health, relationships, and finances, all of which could be emphasized in this month's flow of Virgoan energies.
At a less obvious level, it could take the form of an examination of your unconscious thought patterns. For instance, is there anywhere you are holding other people responsible for things that have happened to you in the past, perhaps subtly giving yourself permission to hold on to old hurts or to blame someone or something else for the way life has shaped itself around you.
Perhaps you are unconsciously holding on to belief patterns that belong to a person influential in your early upbringing that has nothing to do with you now and certainly does not add value to your current life. For instance, a parent who believed that 'life was unsafe' or that the opposite sex was 'not to be trusted' and behaved accordingly.
Whatever might come into your awareness from such an examination this month, choosing to take ownership and pick up the responsibility for changing it will be an important pathway to greater freedom in your life.  Just to encourage us along the way, currently, there is a steely edge to the energies that will make it difficult to hang about in habitual ruts belonging to the old patterning without experiencing a sense of discomfort.
Remember that things can and will dissolve very quickly these days, but we need to be in that 5th-dimensional place of self-appreciation and neutrality to make this our personal experience.