The energies of April seem set to be fast-moving, turbulent and ripe with potential and opportunity for new beginnings. This is essentially a positive, helpful flow of energy, but keep in mind as you negotiate it, that we could find our new beginnings presented to us in the guise of seemingly random, unexpected events or situations that require us to make new 'out of the box' choices.
The planetary configurations and influences this month will be supporting us in every way they can, to move forward. One way in which they will do this is through instigating a focus on resolving the past so that our future can be different. In this energy flow, we may find ourselves confronted with memories, people or situations from the past so that we can review what we have inherited, especially from our family and ancestral line.
Without this review, we could find ourselves continuing to function on past agreements that limit and condition how we see ourselves and consequently what we can create for ourselves in the future. It is important that we now make a commitment to being true to ourselves and take full responsibility for this choice. Within this energy there will also be an invitation to explore our personal power and whether we use it with integrity and in alignment with our truth.
The new moon on April 5th will be a particularly powerful opportunity to set a new focus for moving forward. The energies around this time could feel particularly pushing and intense. The need to respond with an action of some kind might feel overwhelming in intensity, however, try to take your time with your choices and make sure that the action you take is meaningful and in alignment with your intended direction.
The full moon this month is on April 19th. This will be a second full moon in Libra, following on from the one on March 21st. When we have two successive full moons in the same sign it can create a more in-depth focus on the themes related to that moon position so you could find yourself revisiting themes that were prominent for you around the March full moon, later this month.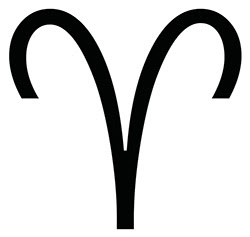 The Influence of Aries
During April the sun shines onto the earth through the constellation of Aries, creating a magnification of the qualities and ray energies associated with this constellation, which is represented in western astrology by the glyph of the Ram.
As the first sign in the zodiac, Aries marks the beginning of a new astrological year and brings with it a potent opportunity for new beginnings. It's fiery, initiating energy seeks to promote regeneration and renewal in all areas of life, both spiritually and physically.
Aries energy is highly creative, mental energy that brings with it a flow of inspiration and new ideas from the collective higher mind. It will provide a powerful impetus that will hugely complement and enhance all the other influences for creative change available to us this month.
Time to Review and Reset
The energies of April seem set to be fast-moving, turbulent and ripe with potential and opportunity for new beginnings
The whole energy set up this month is about renewal, regeneration and new directions.
It has a very creative, intense focus that comes in on the back of the powerful, high-frequency energies that began to flow onto the planet at the March Equinox and that will continue to do so over the next few months.
These energies are beautiful, positive energies that have the frequency of unconditional love at their core. Unconditional love, rather like strongly flowing water, will permeate everything in its path, gently but firmly reorganizing anything that is not based in the same frequency as itself.
In this current energy flow, there is a particular focus on breaking up old structures and organizations that are no longer fit for purpose. What used to work, now increasingly does not. You need to look no further than the current impasse in UK politics to find a really good example of this. All the old ways of working have been tried over and over; no solutions have been found. The system is broken, not fit for purpose going forward.
Creativity, cooperation and an expanded perspective will be required before new solutions can come forward. In the meantime, the old power struggles play out, causing division, frustration, anger and recrimination, all old third-dimensional imprints that need review and resolution.
A small-scale version of the same struggle to evolve is currently playing out within each one of us. The energies this month could well highlight where we are still clinging to old concepts, patterns and versions of ourselves that relate to the past. Keep in mind that taking these into the future is not an option, and just treat it as a great opportunity to dissolve, release and set a new vision for yourself.
If you should find yourself in the situation where you are unexpectedly given no choice about what you are going to let go of, celebrate, relax and know that all is well. A sudden change and unexpected endings are very much par for the course in the current energy flow, however, so are exciting new solutions and opportunities. Just give yourself permission to push the reset button.