We wish you all a very Happy New Year and hope that you are feeling rested, rejuvenated and ready to take on whatever opportunities and challenges 2021 has in store for us.
2020 was an unusual year in so many ways, so much so that looking back it seems that it has acted as a bridge between two very different realities. We are left with a sense of completion and the recognition that there is no going back to how things were at this time last year, too much has changed.
Despite all the difficulties this feels like a positive step forward and we look forward to what is coming next, with both interest and curiosity.
The previous twelve months has been dominated by the effects of the Saturn/Pluto conjunction in Capricorn with its focus on destabilising and dismantling old worn-out forms, be these old thought forms or inflexible corporate structures. It also fostered increased restriction and contraction in the form of new rules and regulations from governments around the world trying to deal with the effects of a pandemic that no one dreamt of a year ago.
By the time we arrived at December 2020 it had been quite a roller coaster ride and much had changed in our world. The feeling of intensity that had been with us all year, continued to build until we reached the winter solstice on December 21st, when the Earth received an influx of very high frequency light and love straight from the galactic core.
Almost exactly on the solstice itself Saturn moved from Capricorn into Aquarius to form a conjunction with Jupiter, signalling a seed change of energy that has set the scene for profound changes to take place in our world over the coming few years.
Hello 2021
No doubt you have tapped into the shift of energetic focus as 2021 began. New opportunities are opening up, but we have to remember to stay conscious, centred and focussed in our hearts to be able to make the most of them.
The energy flow in the early part of the year, especially through January and February looks set to provide us with a considerable degree of disruptive volatility, so do your best to allow and continue to expect the unexpected. All is well but the speed of change could take our collective breath away if we do not stay awake and aware to what is happening.
The transformation process is being ratcheted up another few notches and this will affect us both personally and collectively. We are likely to see corruption and lack of integrity in our structures and organisations being exposed and challenged much more publicly and frequently.
Change could come swiftly and dramatically in the new energy flow and this might feel somewhat disorientating, especially if we unconsciously try to hold onto old ways of being.
Freedom Versus Control
A recurring and dominant theme over the coming year will be the contrasting interplay between the energies stimulating a strong desire for personal freedom and those that support old systems based in power and control.
This opposing energy polarity could feel particularly strong and uncomfortable around the time of the new moon on January 13th. The moon will be in Capricorn and the cosmic line up at this time will bring an intense focus to issues of power and control, at both a personal and global level. This will definitely be a time to mindfully avoid entering into any situation that involves a power struggle.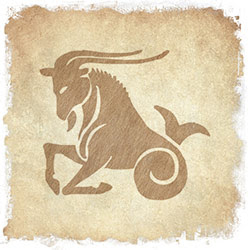 The Influence of Capricorn
The prevailing planetary influence for most of January comes to us from the constellation of Capricorn, represented by the glyph of the mountain goat in personality-based astrology and the unicorn in soul-based astrology.
Over the next few weeks, the Sun will magnify the inflowing energies from the constellation of Capricorn, making its energetic focus more available to us. Tenacity and ambition are both qualities inspired by Capricornian energies. These qualities can either be used to further selfish materialistic ambition or they can be channelled into a co-creative force that inspires new more expanded opportunities for all the human family.
With Pluto still in Capricorn for the next few years we will find that the emphasis will remain firmly on overhauling the old and creating new foundations that will support us in the new phase of life now beginning.
Beyond 2020
The December Solstice marked an energetic turning point where more of the restrictive patterning of the third dimensional construct was dissolved in the incoming flow of high frequency light codes. This means that there is now an increased opportunity for us to create something new outside the boundaries and constraints of the old 3D reality. It also means that there is a growing pressure from within for change to manifest as a tangible reality. It will depend upon how easily we are able to respond to this call for change at an individual and collective level as to how easy the transition will be.
Many are now awake and responding to the call to remember who they are and their purpose for being here at this time, while many others are waking up and will wake up over the coming years. However, there are still many who are consciously or unconsciously clinging to the old and are not yet ready to resonate with the new energetic opportunities.
So, for a while yet we will have a bit of a bumpy ride as all of these contrasting streams of reality play out in our world.
A Time for Discernment
The energy flow in the early part of the year, especially through January and February looks set to provide us with a considerable degree of disruptive volatility, so do your best to allow and continue to expect the unexpected
One of the very visible effects of these differing perspectives is the apparent deepening of polarity as fear drives many to try to anchor themselves back into a reality that is no longer stable. Add to this the contribution of those who consciously and deliberately manipulate others so as to hold onto their positions of power and control at all cost, and it becomes clear that we all need to choose even more carefully what we energise with our focus and attention going forward.
The world is currently full of distractions and conflictions that could easily take us away from our own truth and inner knowing if we are not mindful. Just do your best to stay awake and aware and give your energy and attention only to those things that will enhance the welfare of humanity as a whole.
If this seems a little daunting remember that ultimately nothing is now going to thrive on this planet that is not based in the consciousness of the heart and this includes us. Cultivating the ability to sit in the still point in the heart where you are connected with your soul/spirit and the All That Is will keep you balanced, conscious and aware of where you need to be and what you need to do in each moment.
Most importantly it will keep you in contact with the uniqueness of you and the gifts that you brought into incarnation this time to help cocurate a new reality. Now is the time, so no need to wait any longer to bring them forth!
As snow blankets much of the country, many herbalists find ourselves yearning for green plant life. Like our grandmothers before us, we turn to evergreens, like pine and juniper, for wreaths, teas, oils, and more – giving thanks for their warming, invigorating presence. 
Evergreens thrive in some of the most extreme climates. They fill us with hope for warmer days ahead, and, as the very definition of generosity, they share their abundance year-round. 
Evergreen Forest Bath Salts
Luxurious Dead Sea salt is combined with the grounding and antimicrobial nature of pine needles for a relaxing bath. Fir or spruce needles can be substituted. Make sure you bring an ID book to properly identify your juniper as some species, especially ornamental varieties, are toxic. 
Ingredients
3 cups Dead Sea salt (or any sea salt)
½ cup pine (Pinus spp.) needles, finely chopped
½ cup juniper (Juniperus communis or Juniperus virginiana) berries, crushed
2 tablespoons sweet almond, grapeseed, or olive oil
6 drops fir (Abies balsamea) essential oil (optional)
6 drops Virginia cedarwood (Juniperus virginiana) essential oil (optional)

Directions
Combine salt, pine needles, and juniper berries in a medium-sized bowl and mix thoroughly.
Combine essential oils with base oil (sweet almond, grapeseed, etc.) and stir to combine.
Add the oil mixture to the salt mixture. Stir thoroughly.
Place mixture into a glass jar, label, and store in a cool, dark place for 6-12 months.
Use 1-2 handfuls of salt per bath. Before draining, place a sink/bath strainer over the drain to catch the herbal material. Alternatively, place salts in a muslin bag and hang over the faucet while filling the bath.
Note: Baking soda is commonly used to calm irritated skin. Feel free to add 1 cup to this mixture, if desired.
These Evergreen Forest Bath Salts are a lovely reminder that our herbal practices can continue through winter. Don't limit yourself simply because there are fewer plants available. Take the opportunity to truly explore and deeply understand the plants that are standing strong through snow, frost, and ice.